The Vintage Retreat Tiny House combines whimsical with minimalism to create a romantic design. The farmhouse inspiration was handcrafted by Hill Country Tiny Houses and voted "Best in show" at the National Tiny House Jamboree 2017. It was also in the top 10 most popular tiny houses on Instagram in 2017.
Todd and Shari Snyder built it for their own family of three. It's proven to be a well-loved favorite for clients everywhere.  They love the abundance of natural light combined with the color palette that contrasts white ship lap with barn wood throughout.  The well thought out floor plan provides efficiency and everything you need at your fingertips without any wasted space.  The design details of unique shelving, stained glass windows, and barn doors, adds to its charm and warm feeling.  People often comment about the peace they feel immediately upon stepping inside and how they never want to leave. It's a perfect blend of functionality and beauty families will thrive in for years to come.
Own your dream tiny home and save $18,000 today!!!
We're selling the Vintage Retreat! We've decided to sell our beloved tiny home and move into our HGTV tiny house, The Bohemian Bungalow. You, our beloved readers, have first chance to own this dream tiny home at a discounted price.  Next week, we will share it with the public.
If you'd like more details and pictures go to: https://mailchi.mp/hillcountrytinyhouses.com/vintageretreatsale to view all the details on this tiny house including photos and video reviews of it.
Investors: This is a turn-key AirBnb option that can be placed on your property or you could purchase a lot within Tiny Town to place it on and rent it out. We averaged $160/day for the 29 days we had this unit for rent on AirBnb, it's a great investment!
Homeowners: This home is move-in ready complete with furniture! Save $18,000 today! Bonus: FREE furniture and decor ($6,600 value). Retail price with upgrades here is $108,000.  We added free delivery ($1400 value) as well, totaling $116,000, but you pay only $98,000
We want to do some traveling with Andrew before we settle down in the community. The goose neck travels much easier hauling all that weight.  We can even take it on the sandy beach, sleeping by the ocean in Port Aransas or maybe Big Bend National Park. 
The tiny house we are designing now is 600-700 sq ft, a 2 bedroom park model without wheels. We will live in this one in our tiny house community and at that time, put the Boho on airbnb in Tiny Town. We wanted to share this news with you before we share it with the rest of the world! 
The Vintage Retreat boasts a robust 384 sq fit with an additional 70 sq ft loft for a total of 454 sq ft with 2 slide outs. We are selling it fully furnished with 2 Queen mattresses, murphy bed, a folding dining table and chairs, reclining love seat and chair, appliances (including the washer & dryer), as well as our rolling butcher block island and barstools. 
This home has served our family of 3 well over the past year and a half; we've made many memories we'll treasure in our hearts forever. We've parked it in 4 different RV parks in 4 different cities in 18 months and hosted more out-of-state guests than we ever did in our 5 bedroom home. Living tiny is still a novelty that attracts the curious, and we love it! In 2017, Instagram named The Vintage Retreat in "the top 10 most popular tiny houses of the year."
In the same year, it was voted in the top 3 best tiny homes at the Tiny House Jamboree. Needless to say, this tiny home has had its fair share of fame in its short but exciting lifetime. 
Built on a custom made 40 ft trailer with 2 fold down decks, 2 steel built slide outs, a set of french doors in the main living space, and sliding glass door off the master bedroom. Inside, you'll find a full-size jetted tub/shower combo, a 48″ antique vanity with a marble counter top, a standard-flush toilet, and a large built-in closet complete with built-in drawers.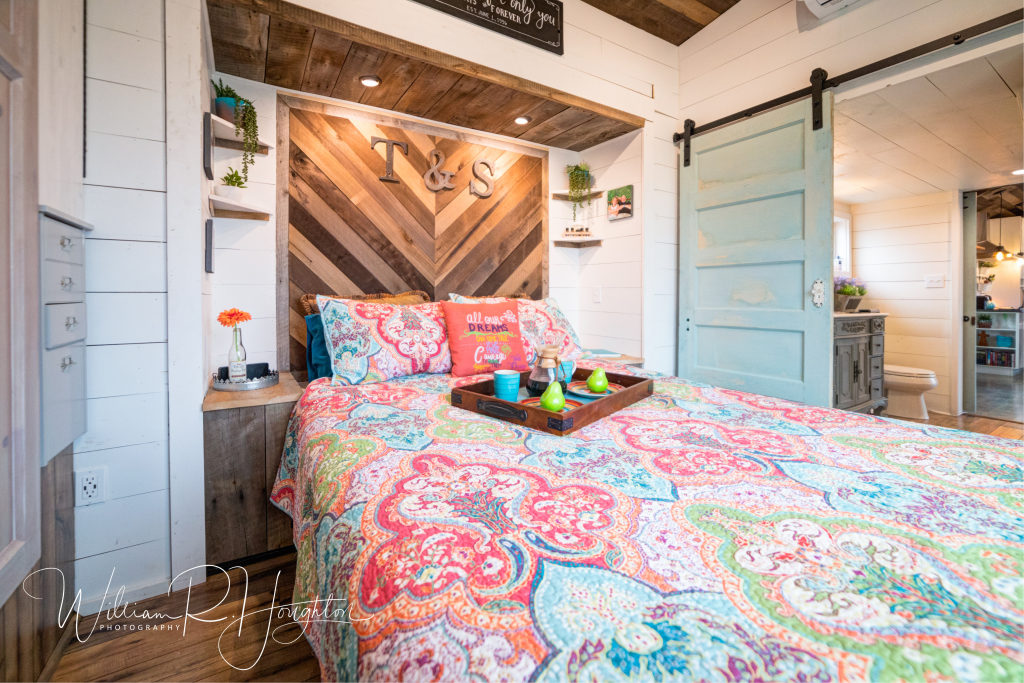 We have dropped the retail price by $18,000 and are selling this home fully furnished with decor (minus personal items). Todd will deliver this home directly to your door for free (over $1,400 value) and teach you how to set it up or pack it up for travel. He'll deliver it anywhere within a 200 mile radius of San Antonio, Texas. At this time, we are only offering this home to someone local. He can also place metal skirting around the whole tiny home and add eaves on site for an extra fee. Because this tiny home has slide-outs it can be parked in a campground (most RV parks will allow you to park it there) or you can use it as a guest house, vacation rental, or full-time dwelling on your own land.